bigblackmimesis
Randomly cable channel-surfing this morning, I saw on G4 on X-play a quick review of several arty and atypical games they'd seen at a game expo or gotten advance buzz about... The most compelling one is called Crayon Physics Deluxe, an upgrade of a simple but ingenious freeware game by Petri Purho, a student at Helsinki Polytechnic in Finland.
"Crayon Physics Deluxe is a 2D physics puzzle game, in which you get to experience what it would be like if your drawings would be magically transformed into real physical objects. Solve puzzles with your artistic vision and creative use of physics."
YouTube video of the cool game in action.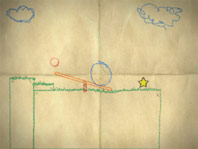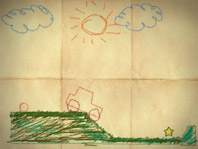 When it's actually available I'll update.
Link to original version free game (you can only draw squares).